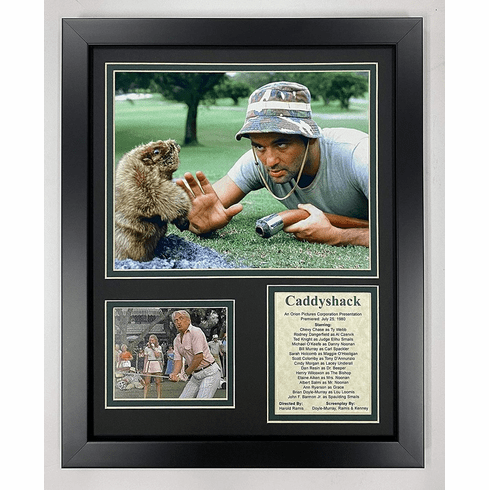 Caddyshack Renowned Comedy Golf Movie Collectible Framed Photo Collage
This beautifully matted collector's photo presentation is a 12" x 15" collage. It contains an 8x10 photo offset with a 3x5 photo coupled with a bio or stat. All photos and bio are mounted on bevel-cut double-matting under glass. These quality collectors pieces are designed for visual appeal. This piece comes framed in a beautifully sculpted black lacquered frame with a wire for easy hanging. A unique collectible for any fan and they make a great gift as well! If you are collector, a sports fan, a history lover, or all of the above, Legends Never Die has an extensive collection of memorable photographs and history of life's legendary moments. These handmade collages feature famous and exciting photos, bios, and noteworthy events, beautifully framed beneath bevel-cut mattes and protective glass. Celebrate your favorite musical artists, films, sport teams and heroes, celebrities and entertainers, historical events, and much more.
Shipping (Processing Time + Transit Time): Processing time is approximately 1-2 business days to leave the warehouse plus transit time.